We are a design-led research group delivering creative and transdisciplinary initiatives that bring together community partners with academic expertise from across the disciplines. We explore the novel questions, and solutions, that emerge across disciplines through engaged research – developing, doing, and disseminating our activities in partnership. 
Our research-to-practice collaborations are delivered with schools, community leaders, and young people. We specialise in co-creating integrated art-science educational initiatives and delivering research in partnership with the arts and cultural sector.  
Through collaboration and co-production, our aim is to strengthening understanding between researchers and the communities they serve.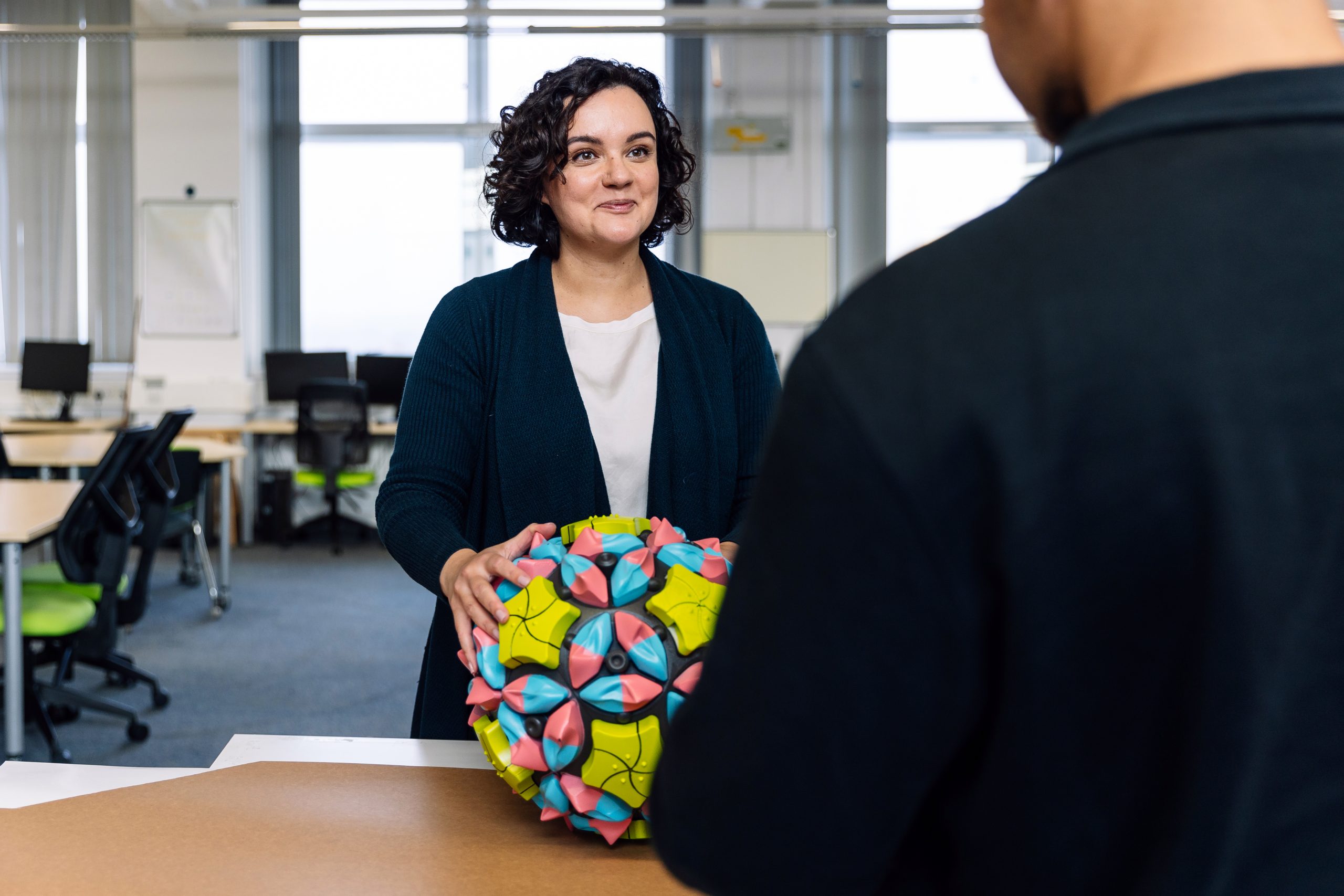 Dr Briony Thomas
Research Group Lead
Briony is an Associate Professor of Design Science at the University of Leeds and has a joint appointment across the Faculties of Arts and Engineering. This cross-faculty role reflects where her work is positioned – at the intersection of the arts, science, and society. She has a distinctive combination of a practical artistic background that was developed through an education that integrated science with design.
Briony leads a portfolio of research on creative and cultural learning and arts-integrated approaches across the disciplines, and maker-centred learning. She is a University Public Engagement Champion and mentor, specialising in arts-science projects and creative engagement. 
Outside the University, Briony holds a voluntary role as Chair of Leeds Cultural Education Partnership, a network of organisations from the cultural, education and community sectors, committed to creative learning opportunities for children across the city. Briony is passionate about the transformative power of creative and cultural learning on the lives of young people. She dedicates much of her time to working with schools and young people to share her energy and enthusiasm for creative exploration of the world.
Professor Michael Hann
Dr George Jackson-Mills

Dr

Shuang-Ching Lee
Khadijah

Ib

rahiim

 

Leanne Kirkham

 

Made with Music
Hafsah Nibe
Research Institutes 
Schools and Academy Trusts
Third Sector
Local government
Ahlam Abumughli
Yu-Hsiang Chen
Jianan Hu
Sylwia Orynek
Stephanie Scott
Mian Wang
Francisca

Mayambala

(2023)

 

Suzannah Dearden

(2022-2023)

 

Siza

Dube (2022)

 

Samuel

Feroleto

(2022)

 

Frances Thompson

(2021)

 

Dinuo Liao (2020-2022)

Kacper

Dobras

(2019-present)

 
Postgraduate Researchers
Dr Akeel Abtan, PhD 2019
Dr Taegyun Kim, PhD 2019
Dr Choaran Wang, PhD 2017
Dr Yu-Chun Huang, PhD 2014
Dr Eunsuk Hur, PhD 2013
Dr Maryam Daroodi, PhD 2012
Dr Meong Jin Shin, PhD 2012
Undergraduate Researchers
Suzannah Dearden, Internship 2022
Samuel Feroleto, Internship 2022
Sean Martin, Internship 2021
Alexis Oke, Internship 2020
Frances Thompson, Internship 2020
Kacper Dobras, Internship 2019
Elly Hughes, Internship 2015
Moteijus Valinuas, Internship 2014-2015
Adam Arstall, Internship 2014
FIND OUT MORE ABOUT OUR PROJECTS