Fab Lab La Campana

Fab Lab La Campana
Supported by the British Council, this project brought together educators from a range of disciplines interested in social and educational innovation. The aim was the co-design and co-create a Fab Lab with a marginalised community in Monterrey, Mexico.

This process focused on the empowerment of community members to make the changes they desired, for themselves and their community. Beyond skills for making, the Fab Lab also facilitated the building of partnerships, and the development of social competencies, that are often overlooked in the process of empowerment and social mobility.

The project was directed by educational researchers from Tecnológico de Monterrey, in collaboration with the University of Bath, the Open University and the University of Leeds. Emphasis was placed on areas of education in STEAM (science, technology, engineering, art and math), participatory design, and digital fabrication within the Fab Lab. Beyond the physical space, equipment and educational activities, a community architecture intervention demonstrated the large-scale impact digital fabrication could have in creating spaces shaped by and for the community.
Juan Manuel Fernández-Cárdenas (Tec de Monterrey)
Cristina Reynaga-Peña (Tec de Monterrey)
Nicole Lotz (Open University)Briony Thomas (University of Leeds)
Simon Hayhoe (Bath)
Azael Cortes Capetillo (Tec de Monterrey)
Alejandra Díaz-de-León-Lastras (Tec de Monterrey)
Fabio López (Insitu Foundation)
Rafael Machado (Insitu Foundation)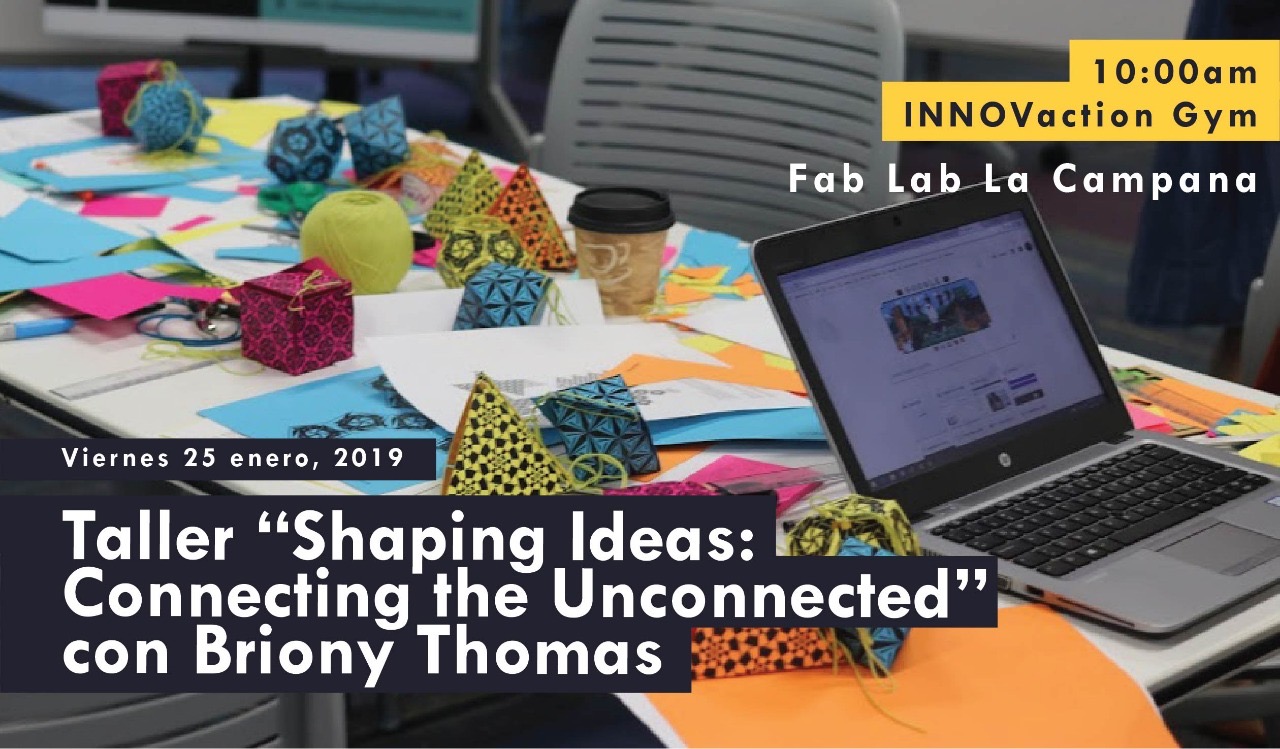 Public Space Intervention
Fab Lab La Campana in Action
Community-led Initiatives
PUBLICATIONS & EXHIBITIONS
Lotz, N., Thomas, B., et. al. (2019). "Co-creating FabLab La Campana: Empowering a marginalised community in the North of Mexico," in International Association of Societies of Design Research Conference Proceedings 2019.
Thomas, B., Capetillo, A., Díaz de León, A., Lopez, F. and Machado, R. (2019). "A Shape-based Approach to Creativity and Connection Making," Bridges Conference Proceedings 2019, pp.587–594.
López, F. and Thomas, B. (2020). "Prototype 1.0 Avioncito," in Bridges Mathematical Art Gallery, 2019.
This project was made possible thanks to the support of the British Council Mexico.

Thanks to Juan Manuel Fernández-Cárdenas and Cristina Reynaga-Peña for their generous hospitality during the project. To my friends at Innovaction GYM — Diana Salinas Flores, Azael Capetillo and Ewelina Ferchow — it is always a pleasure to be back with you in Monterrey.
The Design and Digital Fabrication group work was completed thanks to the vision and enthusiasm of co-lead Alejandra Díaz-de-León-Lastras, and collaborators Fabio López and Rafael Machado. Thanks to all our co-designers and community participants who continue to develop this initiative for themselves and their community.